Sugar & Spice Donut Shop was started over 34 years ago in Louisville, KY with the idea that a quality donut at a fair price would be something that would appeal to many people. We found the best recipe available and went into business making what we now believe are the best donuts in Louisville. After a slow start we thought that we might have been wrong, we figured a good donut at a good price would be a natural thing that everyone would love. Eventually word got around and the customers started to come. Some of the very first customers are still with us after all these years.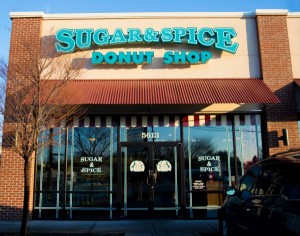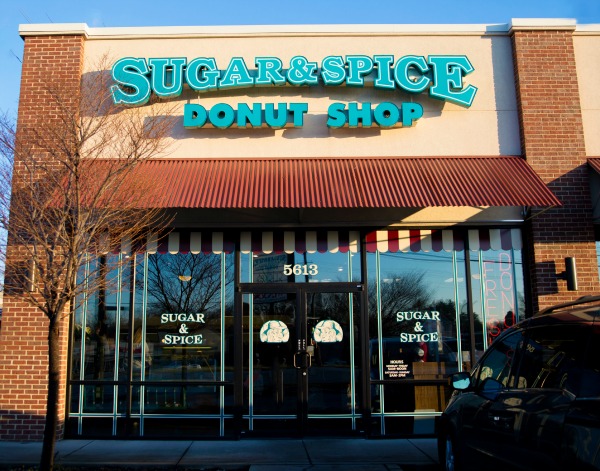 In the beginning we simply offered a basic line of donuts but little by little we saw other great tasting food combinations and thought, "hmmm, that might make a good donut." Slowly we added many varieties we think of as our "specialty" donuts. Some of our customers refer to as "designer" donuts. Two in particular are the Cinnamon Sugar Donut Holes, inspired by our daughter when she was a little girl, and the Cotton Candy Donuts inspired by our granddaughter. Two "Sugar & Spices" themselves.
Over the years we've amended our recipe to give us the flavor and texture a perfect donut should have. I doubt if we will make any more changes at this point, we really do like it the way it is. However, we continue to experiment with new and unique varieties. For instance, we're working on a "Chocolate Waffle Cone Donut". It may be a hit or it may turn out to be a flop. We experience a good many flops, but regardless, we always stay focused on the quality. Whether it's a Chocolate Oreo Cheesecake or a Plain Glazed it doesn't matter. To many, including me, the Plain Glazed is still the best and the benchmark of a well-made donut. If it isn't good then the others probably aren't either no matter how fancy they are.
For all our loyal customers, thank you so much. It has been our honor to serve you for all these years. For those of you who haven't tried us, please come by and maybe you can be our customer for the next 32 years. We'll be awfully old by then but we'll still make you a donut if we're able.